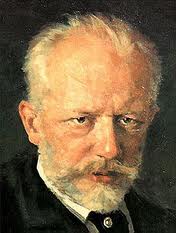 As this is the season of memories, joy and delight—many people include in their festivities a night at the ballet to see a remarkable staple of the holiday season: The Nutcracker. The composer, Pyotr Ilyich Tchaikovsky, has not only given the world this perennial treasure of unforgettable ballet music (in an ironic twist, as a quintessential Russian, he also has given the United States a piece of music that is brought out every 4th of July to help us celebrate our national birthday—his stirring The Year 1812, more commonly known as the 1812 Overture). Tchaikovsky is, without doubt, considered to be one of the world's greatest composers and one whose way with melody and emotion is almost unmatched.

This review appeared exactly 20 years ago in the December 1992 issue of The Bloomsbury Review. It will give you some insight into the man behind the music. The Nutcracker was first performed 120 years ago at the Mariinskii Theatre in Saint Petersburg, Russia, on the 18th of December, 1892.
Tchaikovsy
The Final Years, 1885-1893
DAVID BROWN
Norton, ISBN 0-393-030997
The clamor of our age finds little room for the truly genuine. Foolishness tends to sing a little loudly. Horrors surface with regularity on the smooth face of the television only to submerge beneath a wash of banality and a repetitive tide of raw commerce. Fifteen minutes of fame, sound-bites, 22-minute half hours, 0-60 in 6.9 seconds, USA Today, fast food, and the ubiquitous MTV and CNN—so much in a short-attention-span hurry that acronyms more than suffice—are the disposable snapshots of a quickly fading, easily forgotten, substanceless time.
The quest for those things that justify humanity's infestation of the globe can be lonely and often unrewarding—but occasionally, in a concert hall or art gallery, on a stage or in a book (never in the halls of power and no longer in a church), enough of a flash of the divine is revealed in the flesh that the word redemption lives up to its full definition. Such is the case with the completion of David Brown's massive four-volume biography of Tchaikovsky.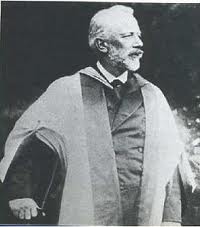 Serious musicologists often dismiss Tchaikovsky with a scoff, a disparaging wave of the hand, a mumbled comment about him not being not much more than a crowd-pleasing melody-maker who clumsily stitched his pieces together without much structural skill. Those are judgments with which Tchaikovsky, who was probably harder on himself than anyone else could be, might agree—in part—and there may be an element or two of truth in that assessment. There are, however numerous perspectives from which to judge music. There are many kinds of genius, and while Tchaikovsky may not have had the mathematically pure abilities of a Bach, the organizational inspiration of a Mozart, or the innovatively intellectual and architectural talents of a Beethoven, he was nonetheless a genius—a genius of his age and time, a genius in the literary sense of "romantic," a genius of the emotions.
There is something about his music—and the man—that has fascinated the world for more than a century; the 100th anniversary of his death will be observed next year. Numerous books have been written about him—more than 25 volumes are in print. Any worthwhile outlet outlet carrying recordings will have bins and racks of the various recordings of Tchaikovsky's music. Now, with the publication of Tchaikovsky: The Final Years, 1885-1893, the definitive exploration of Tchaikovsky's fascinating life and unique music has been published.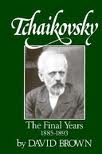 This fourth movement, the final volume of David Brown's magnum opus tetralogy, has been a long time in coming. Readers heard the opening strains of this piece in 1978. Even David Brown, whose original scheme called for three volumes, was surprised, it seems, when it became apparent that no less than four volumes would be necessary—and with the final volume wrapping up during the dissolution of the USSR and in the face of glasnost, who can guess how many volumes this might have run to had Brown had access to the classified Tchaikovsky archives? It boggles the mind.
The four volumes, all titled Tchaikovsky, are subtitled chronologically thus: The Early Years, 1840-1874 (Norton, 1979), The Crisis Years, 1874-1878 (Norton, 1983), and The Years of Wandering, 1878-1885 (Norton, 1986). There are two levels to each volume: The first level is the music, complete with musical notations, staffs, bars, and notes accompanied by a commentary that feasts as if it were at a gourmet buffet, lifting this particularly tasty morsel from this concerto and that delicious forkful from that symphony, and yet another heaping helping from one of Tchaikovsky's eleven operas. All the opera and ballet discussions are accompanied by full synopses.
Brown is nothing if not searingly objective—and while he may be painfully condemnatory of a certain section of a piece ("some dismally trite moments"), he will, on the other hand, lead you to a totally overlooked portion and allow you to be amazed at the cleverness, beauty, originality, and, yes, genius to be found there. All the major works and a great number of the minor ones are given their due throughout all four volumes this way, the music interwoven with the life of the composer—and it is the life of Tchaikovsky that forms the second level to these volumes.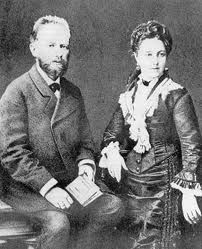 And what a life it was. Just as no one could have guessed that the child Einstein would amount to more than a hill of beans mathematically, so, too, there was not much evidence that the sensitive child Pyotr would have a career as a musical giant. Most of the biographical facts are well known to anyone even superficially interested in serious music: his homosexuality, his disastrous marriage to the decidedly unstable Antonina Ivanovna Milyukova; his relationship, entirely by letters, with his patroness, the fabulously wealthy and decidedly unstable Nadezhda Filaretovna von Meck; the drug-addicted members of his family; and the melancholy that pervaded both his life and music. David Brown brings us closer than anyone ever has before to the whole man and to the dedicated, hard-working, and innovative composer.
This last volume covers the period of some of his greatest creative endeavors: The Sleeping Beauty ballet, the fascinating and quirky opera The Queen of Spades, and his last and greatest symphony, the enigmatic Pathétique. It is also the period of his greatest fame: an honorary degree from Cambridge University, his triumphant tours of Europe and America—the latter at the invitation of Andrew Carnegie to open Carnegie Hall (and where Tchaikovsky marveled at the "amazing" warmth and kindness of Americans, and at the terrifying height—"nine stories!"—of some of New York's buildings). This is also the period when, inexplicably, Nadezhda von Meck withdrew her financial and, more importantly, her emotional support that had sustained Tchaikovsky through many a personal crisis.
One of the most valuable aspects of this final volume is Brown's exploration of how this "most Western" of Russian composers is at the same time the "most Russian" of Western composers. Tchaikovsky's inventive ability to meld Russian musical traditions with traditional European forms was original and ingenious and led him into creating heretofore unknown—and often, now, too imitated—musical structures.
Most of all, however, Tchaikovsky poured his emotions into his music like no composer before or since. His was an uncanny ability to hold up a mirror to his soul wherein we can see our own longings, feelings, and passions. David Brown has created a living biography of one of the world's most valuable personages, one that can be illustrated, enhanced, and underscored with music—with the opportunity of interweaving the music, the musical examples, the history, and the background, all with the occasions of Tchaikovsky's life—makes this a multilayered biography of genuine and unforgettable depth.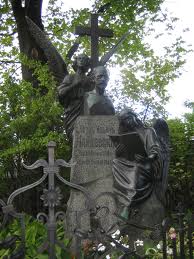 And of course the final volume deals with the myths, rumors, and speculations surrounding Tchaikovsky's death. It is a back-and-forth argument that has gone on for years and is still unresolved: Did Tchaikovsky deliberately commit suicide, and if so, what were the circumstances?
Brown unstintingly investigates every story, report, and rumor that surround this issue—including the latest brought to the West by Alexandra Orlova and supported by hearsay from other sources. That story claims Tchaikovsky was overly interested in the nephew of Duke Stenbok-Fermor, and an accusatory letter was to be sent by the Count to the Tsar. A "court of honor" consisting of Tchaikovsky's former colleagues from the School of Jurisprudence was allegedly convened, and it was decided that Tchaikovsky should commit suicide to save the school and the composer from disgrace. Though the issue has been a complicated one, with feelings running extremely high, this "court of honor" story has been vehemently dismissed by many scholars; most recently challenged by Alexander Poznansky, author of Tchaikovsky: Quest for the Inner Man and Tchaikovsky's Last Days: A Documentary Study. Brown's conclusion is that we will probably never know. There are inconsistencies in every account. Whether it was a reckless drinking of unboiled water that gave Tchaikovsky cholera or, in a fit of depression, Tchaikovsky deliberately drank the water or it was engineered by poison to appear as though his death was brought about by cholera (the same disease that killed his mother), it was a tragedy to lose at the relatively young age of 54 a talent that reached around the civilized world.
What emerges from this magnificent four-volume biography is more than a portrait of a composer. It is a lesson in listening and judgment, an exploration of one man's life and music that humanizes both. Tchaikovsky emerges from these pages restored in the respect he deserves as a musical man of genius, as a warm and deep, thoughtful, generous, and loving human being who immeasurably enriched the world not only with his music, but also with his presence. David Brown has written a biography of genius, invaluable for scholars, yet readable, mesmerizing, objective, and fascinating. This is biography as it should be written—Tchaikovsky lives again in these pages, brought to life by the love of an honest friend.