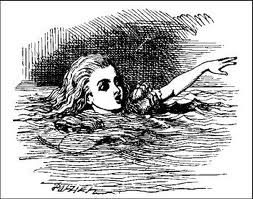 In Alice's Adventures in Wonderland, after Alice's frightful telescoping followed immediately by her dizzying diminution, she finds herself soaked in a pool of her own tears. On scrabbling to safety, the courteous Mouse offers to dry her with the driest thing he knows: the story of William the Conqueror. Perhaps more arid than the story of William the Conqueror, Mouse might have regaled her with the statistics on book publishing. As you are (hopefully) comfortably dry reading this—and as I have just indulged myself with this excuse and opportunity to revisit Lewis Carroll's story again—I'll refrain from boring you at length with those desiccated statistics and swiftly shrink to the point: Readers were inundated with over 1.1 million new titles published in 2011 alone.
There is a way for authors and publishers to keep their collective heads above this pool of tears however. The Bloomsbury Review has initiated an Author Advertising Program—which offers reasonable display advertising rates to authors with the desire to increase attention for their books, new and/or old.
Many established publishers have tested this new Author Advertising Program, welcomed it, and worked with us and their authors to take advantage of this by designing ads for authors wanting to expand the reach of information about their books. We (and the authors) are grateful for their help and cooperation in expanding the authors' ability to speak to our legions of ardent readers. And, if need be, we can help in the production of your ad.
As we say in our Mission Statement, "We want our readers to discover fascinating new books." It's as easy as contacting the marketing department, and we will send you the necessary information to take advantage of our new program and work with you in alerting the thousands of Bloomsbury readers around the world about your book.
These financial times are forcing publishers, rightly or wrongly, to slash not only marketing budgets—but marketing staff —meaning not only less advertising but less publicity as well. In light of that, as we are all in this together: authors, publishers, and readers, it seemed only proper to devise a fresh new path in advertising: Affordable display advertising rates directly to authors and for authors who want to raise the profile of and increase attention for their books. The simple fact is, no one can buy a book they don't know is available—and that is what advertising is all about, after all.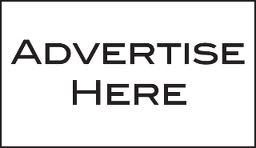 The Bloomsbury Review has spent over 31 years searching out and championing authors who deserve attention—particularly those excellent writers and thinkers who may not receive notice in the limited space of other review media, as well as those fine authors who may not otherwise receive the marketing muscle that publishers tend to reserve for their bestselling authors. Seeking out those unsung books and deserving authors has always been our mission—and will continue to be our mission.
Our readership is loyal—and worldwide. If you are an author, or the friend of an author who is in need of greater exposure, or a publisher who recognizes what a boon this can be for everyone involved, contact the marketing department. We can help with special prices, and send you information about available sizes and specifications.
The Washington Post Book World called The Bloomsbury Review "a leading publication, wholly, even zealously devoted to literature." Pat Schroeder, Former President and CEO of the Association of American Publishers said "The Bloomsbury Review is cause for celebration by anyone who cares about books and literature. At a time when newspapers and magazines across the country are cutting back on their book review pages TBR has become a national treasure!" We think it's a splendid place to be seen.
Your Book, Your Baby & the Cold, Cruel World.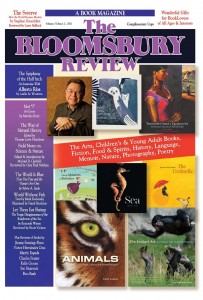 It's written, it's born, it's nurtured, it's published, it's out there on its own. Now what? Give it all the support you can. Tell the world what your book has to offer and where it can be ordered. Don't leave your baby out in the cold. Contact The Bloomsbury Review and let us help you put your book into welcoming hands.
▪ ▪ ▪ ▪
If you are not yet a subscriber to The Bloomsbury Review, you can subscribe here. If you are already a friend of Blooms, and you would like to make a contribution to help enable us to continue our historical work, you can do that here. We are grateful for your continued interest in and your continuing support of our decades of serving and celebrating literature.