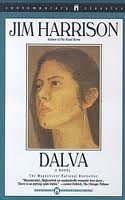 The Guardian has a fascinating series called "Overlooked Classics of American Literature," which is every bit as enlightening and useful to citizens of the United States as it is to our bibliophile cousins across the pond. On May 17, (or 17, May as The Guardian would have it), Tom Cox brought Jim Harrison's 1988 novel Dalva to the overlooked classics discussion, lamenting how little known this novel is in the UK (although, apparently, much better known in France!) and in the process, not only brought a terrific novel back into focus–but set bells ringing here in our offices.
Jim Harrison was a early favorite and discovery of The Bloomsbury Review—and a long and fascinating fixed-in-time interview with Jim Harrison, "A Man Lit by Passion" was featured in a November/December 1990 interview conducted by Tom Auer the founder of Blooms. Those aforementioned bells sent me scurrying to the records and the files to discover that yes, indeed, we did a review of Dalva in the March/April 1989 Issue of The Bloomsbury Review—and as it's always fun to look back into time and see how prescient (or not) we might have been, I thought it would be interesting to share that review with you exactly as it appeared then.
Dalva
JIM HARRISON
Dutton/Lawrence, $18.95 cloth, ISBN 0-525-24624-4
Washington Square Press, $7.95 paper, ISBN 0-671-67817-5 (May Release)
Can a man write a novel from a woman's point of view? With Dalva, Jim Harrison says yes. This clumsily elegant story creates a credible, potent individual. Dalva is attractive, but more than desirable; intriguing but not cloying or mysterious. The usual pitfalls of the male novelist attempting to enter the world of woman—the self-conscious mannerisms of literary cross-dressing—are largely avoided here. Dalva is someone whom Jim Harrison has known or might have known, a woman who retains her individuality and transcends her fictional status as idealized object. For the Harrison fan, this latest of six novels is a welcome arrival—a big, bawdy, historical epic comedy that improves on the lonely clowning of Sundog and recaptures the socio-historically informed adventure of Farmer. For the uninitiated, the novel may be a bit long, but it quickly justifies the scope of Harrison's ambitions.
Dalva is a rich forty-five-year-old who values, but doesn't abuse, her inherited money or land. She is a sporadically employed social worker, a perpetual student of nature and psychology, an adept diary keeper and amateur historian, and anything but a sap. Of her first love, she comments, "I'm sure I loved Duane, at least at the beginning, because he so pointedly ignored me." She is "thought by others to be overly attractive" and does not hesitate to sleep with lovers chosen sometimes on a passing impulse. Yet she is not preoccupied with her sexual exploits, or anyone else's. She writes in her journal, intended for the son she was forced to give up for adoption at sixteen, about her divorced sister's long overdue affair:
Sex has returned Ruth's sense of playfulness. What she did is to have her priest in for dinner, along with his "bodyguard" or chaperon, the older priest with the drinking problem. It was a well-planned campaign to win her last chance to get pregnant: she poached Maine lobsters, chilled them, served them as an appetizer with a Montrachet…She said the old man never did fall asleep, so she had to settle for a quick act standing in the bathroom over the sink looking at each other in the mirror. Now all she had to do was wait and see if she was pregnant while the father went off to work among the poor in Costa Rica.
Dalva is also narrated by a second voice, that of a professional historian whom Dalva ambivalently allows access to the journals kept by her pioneer great-grandfather. Michael is a drunk, a flagrant intellectual, and a city boy with a Marxist chip on his shoulder. During his first week as historian-in-residence at Dalva's family ranch in Nebraska, the professor spends an evening in a local bar.
Our pool game was interrupted by a tussle between two behemoths over one selling another a group of calves with something called "shipping fever." They were bent on squeezing each other to death. The ozone of violence pushed me to a drink a little quickly, and I was forced to doze in a booth.
REVIEWER: Paul Kafka's first novel, Home Again, was published at Harvard University. He currently attends the University of Denver, where he teaches English literature. [Byline: 1989]
From The Bloomsbury Review©, Volume 9/Issue 2 ▪ March/April 1989
▪ ▪ ▪ ▪
If you are not yet a subscriber to The Bloomsbury Review, you can subscribe here. If you are interested in advertising, more information can be found here. And if you are already a friend of Blooms, and you would like to make a contribution to help enable us to continue our historical work, you can do that here. We are grateful for your continued interest in and your continuing support of our decades of serving and celebrating literature.