"I Love to Think of Those Naked Epochs"
~ Baudelaire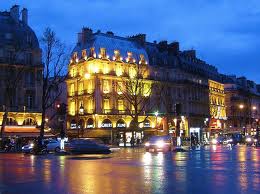 One night in Paris, my wife and I took a small room on the top floor of a hotel just off the boulevard St-Michel. It was an odd little room—no right angles anywhere, every wall of a different surface, stone, brick, plaster, paper. The furniture was Typical Hideous. But the furnishings did not matter. What mattered was that the room came cheap. And that my wife and I could lie in the bed and look out over a squabble of rooftops, chimneys, antennae, sky. And that I could turn the desk around into the window-niche and sit up late making notes in my journal, looking down into the courtyard, into the windows of my neighbors.
For a while, light enough to write by came down from the sky. Later I burned a candle. The desk created a little room of its own, at the edge between interiority and exteriority. I could feel the warmth of our room at my back, and, through the open window, the cool air of the evening on my face.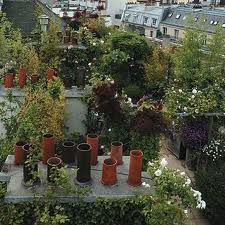 On the roof-garden opposite, a young man in a flowered housecoat watered some plants, then stooped to pick up a cat. Behind one window, an old man sat before an easel, a dog napping at his feet. In another, shadows slow-danced behind a thin muslin curtain. The quarter is very old. It reminds me that everything has happened before. St Germain-des-Pres was overrun by Nazis, and yet it has survived to be beautiful once again, flowers tumbling in profusion from its iron balustrades.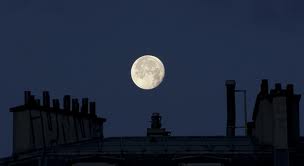 So. An hour or two of composition. A time of deep stillness, into which the stars cast their tiny bolts of love. Then, a walk down among the crowds in the streets. Dinner in a Japanese restaurant on the rue St-Séverin, with fresh flowers in a little vase on our table, and the singular flame of a white tea candle. Then out into the crowds again, pausing to look at the dubious talents on display near the Metro—a man carving canaries out of carrots, a man putting out cigarettes on his palm. Come the morning, we would wander out into all the rain-bright colors of autumn, which arrived as we slept. Clouds bunching up on the horizon. A sharpness to the air. Brown crabby leaves blowing down on the sandy square of St-Sulplice, looking like Rilke's "cheap winter bonnets of Fate."
© Frederick Smock, Louisville, KY
The "Out-of-Bounds Essay" is a unique feature that appears regularly in The Bloomsbury Review. Each is an imaginary work of nonfiction, out-of-bounds only in the sense that they are not necessarily tied to anything specific in the magazine, neither tied to a review, an interview, nor a pre-determined editorial theme. If it should, it is the beauty of serendipity at play only. One of our long-time contributing editors, Reamy Jansen, oversees and edits the feature, asking his essayists for "fresh, offbeat, nonfiction prose that assays boundaries of fiction/nonfiction," encouraging the writer to "even leap over" those boundaries, if she or he will. The single caveat is "no more than 300 words." The Out-of-Bounds Essay is simply the literary equivalent of a musical prelude—a short work that ideally takes the reader on a small journey into what Emily Dickinson would call in her singular way, a "revery."
We will be placing more of these rare-cut gems on the blog in the future. We hope you enjoy them as much as we enjoy sharing them with you.
▪ ▪ ▪ ▪
If you are not yet a subscriber to The Bloomsbury Review, you can subscribe here. If you are interested in advertising, more information can be found here. And if you are already a friend of Blooms, and you would like to make a contribution to help enable us to continue our historical work, you can do that here. We are grateful for your continued interest in and your continuing support of our decades of serving and celebrating literature.