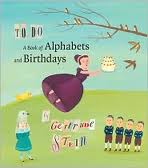 To Do
A Book of Alphabets and Birthdays
GERTRUDE STEIN
Illustrated by GISELLE PORTER
Introduction by TIMOTHY YOUNG
Yale University, $25.00 cloth, ISBN 978-0-300-17097-9
And now G comes after F. What did you say I said G comes after F.
++++Anyway it does.
++++G is George Jelly Gus and Gertrude.
++++Nobody is so rude
++++Not to remember Gertrude.

is for Gertrude. Gertrude Stein Gertrude that is. And Gertrude was born in 1874 in Allegheny, Pennsylvania, but she lived most of her life in Paris. Lucky Gertrude. Gertrude wrote in a way that was her own and Gertrude's style is catching. Catching because it catches you and catching because it sticks with you and catching because you can get caught in her style and it becomes very hard to stop as you can see.
Literature has never known quite what to do with Gertrude. She was an innovator and a genius and a tremendous influence on writers as diverse as Hemingway and Sherwood Anderson—all who made pilgrimage to Gertrude's famous salon in Paris. It was the place to be. She was also a woman and a lesbian, two other characteristics people of her day did not quite know what to do with although she was a writer with her own style and innovative and a genius and had a salon in Paris where all the writers of her day went to be.
To Do: A Book of Alphabets and Birthdays was the second of Stein's children's books; the first, The World Is Round, was popular and was illustrated by Clement Hurd and Clement Hurd is famous for his illustrations for Goodnight Moon. To Do has a difficult publishing history however described in the introduction by Timothy Young. It never saw the light of day as an illustrated children's book while Gertrude was alive but Yale has seen fit to deliver it to us as an illustrated book as Gertrude might have wished with illustrations by Giselle Potter whose quirky work has often been seen in the pages of The New Yorker.
Alphabets and names make games and everybody has a name and all the same they have in a way to have a birthday.
++++The thing to do is to think of names.
++++Names will do.
++++Mildew.
++++And you have to think of alphabets too, without an alphabet well without names where are you, and birthdays are very favorable too, otherwise who are you.
To Do is not the book to learn proper use of commas or question marks. Gertrude's friends were not only writers but painters. She was friends with Picasso and Matisse and Braque, and her salon came about because "Matisse brought people, everybody brought somebody, and they came at any time and it began to be a nuisance, and it was in this way that Saturday evenings began." And the cubist way of taking something apart and reassembling its pieces to present different views at the same time is Gertrude's way with words. The words make sense, but are put together in sentences or something resembling sentences, where words are rearranged and stacked differently together to give you a way of seeing the sense.
Kids love it. I was outside talking with Marcus and Sonia, young next-door neighbors, and I told them I had to go do my homework. They said, "Homework?!" and I said, "Yes, I'm writing a book review of a great book called To Do: A Book of Alphabets and Birthdays would you like to hear some? They both said yes and I brought it to them and looked for the letters that began their names and read each story aloud to them (the best way to use this book) and they were delighted. The sounds made sense. Children hear better than adults.
In the press release for The World Is Round, Stein provided a statement for her readers: "Don't bother about the commas which aren't there, read the words. Don't worry about the sense that is there, read the words faster. If you have any trouble, read faster and faster until you don't."
And that's the way of it, I'm afraid. Buy it and read it or don't. But like my neighbors, if you don't, you would still be delighted to hear it, so maybe you could buy it for your birthday or the birthday of your young neighbors or children and enjoy alphabet soup. It's delicious and will give you much to do.

The End means an end of course not the end of everything because everything else goes on and on and will never stop ever until it does but an end to a story is the end of the story full stop which means the end to this story has come to an end period full stop.