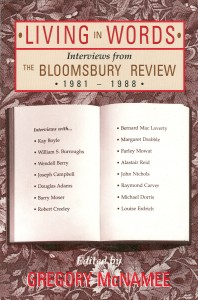 Living in Words: Interviews
from The Bloomsbury Review, 1981-1988
Edited by Gregory McNamee
This wonderful time-capsule collection from the early years of The Bloomsbury Review contains interviews with Kay Boyle, William S. Burroughs, Wendell Berry, Joseph Campbell, Douglas Adams, Barry Moser, Robert Creeley, Bernard MacLaverty, Margaret Drabble, Farley Mowat, Alastair Reid, John Nichols, Raymond Carver, Michael Dorris, and Louise Erdrich.
From the very beginning, The Bloomsbury Review has had a particular concern for the craft of writing and the making of fine books, along with a concomitant desire to bring important authors and their thoughts about writing more intimately into the lives of our readers. This rare collection of interviews is a snapshot of where some of these important writers were during the early days of Bloomsbury's life.
The Bloomsbury Review: The "Don't Panic" phrase that first appears in Hitchhiker's Guide seems to have caught on with many readers, if only because it contrasts sharply with Arthur Dent's usual response to his predicaments.
Douglas Adams: Well, I suppose in a way the words "Don't panic" are really to remind people of the fact that there is a very great deal to panic about. Now if you're walking down a street on an apparently normal day, and somebody says to you, "Don't panic," in that instant you may think, "Why, what's gone wrong?" I think that's one of the things behind it. Asking people not to panic is a way of reminding them that there's an awful lot we've got to be panicking about.
Plus ça change, plus c'est la même chose.