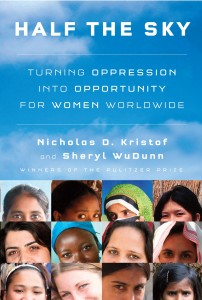 Congratulations to Nicholas D. Kristof & Sheryl WuDunn!
As mentioned on our Facebook page, referring to a fascinating article on Harriet Beecher Stowe, Half the Sky: Turning Oppression Into Opportunity for Women Worldwide by Nicholas D. Kristof & Sheryl WuDunn was just awarded the inaugural Harriet Beecher Stowe Prize for Excellence in Writing to Advance Social Justice.
Terry Hong recently reviewed Half the Sky for TBR and from her words, you can see why it was an apt choice:

If you read one book this year, let it be this one. Using a Chinese proverb—"Women hold up half the sky"—Pulitzer Prize winners Kristof and WuDunn seek to rescue women and girls worldwide by
focusing on three particular abuses: sex trafficking and forced prostitution; gender-based violence, including honor killings and mass rape; and maternal mortality, which still needlessly claims one woman a minute.
What these authors miraculously accomplish is to move beyond the mind-numbing numbers and present individual stories that haunt and inspire. Half the Sky is not about victimization but about taking concrete steps to create substantial change. By book's end, Kristof and WuDunn offer "Four Steps You Can Take in the Next Ten Minutes," filled with near-instant ways you can make a difference. How can you possibly just sit by?
REVIEWER: Terry Hong frequently interviews authors and reviews books for TBR. Her yearly round-up in celebration of Asian Pacific Heritage Month of New & Notable Books is particularly a welcome addition to our pages. Terry's blog is called Bookdragon.