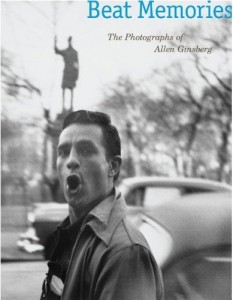 In a recent Facebook post, we pointed our good friends to the Grey Art Gallery at New York University, where the self-annotated photographs of Allen Ginsberg are now on display until April 6. If you make your way to New York between now and then, it's an exhibit you won't want to miss, as it features not only his own wild self, but the other famous (infamous?) carousers he went on the road with: William S. Burroughs, Neal Cassady, Gregory Corso, Jack Kerouac, and others.

In the Fall 2010 Issue of The Bloomsbury Review, our great friend Gregory McNamee reviewed the book which arose from the initial exhibit.
Beat Memories
The Photographs of Allen Ginsberg
SARAH GREENOUGH
National Gallery of Art/DelMonico/Prestel
$49.95 cloth, ISBN 978-3-7913-5052-3
Allen Ginsberg (1926–1997) was many things. Notably, and at times notoriously, he was a poet, the author of the zeitgeist-defining Howl, a primary document of the Beat Generation. He was a controversialist, sometimes without apparent intent, sometimes with a definite wish to rattle our collective cages. He was a correspondent, archivist, and teacher of note. He was a traveler, diarist, ecstasist.
And, perhaps least well-known of all his pursuits, he was a photographer of distinction.
Ginsberg was almost 70 when he received the news that he had incurable cancer, and he set himself to doing what he called "death work," which included putting the last of his archives in order. He had already sold much of his library and collection of manuscripts some years earlier, encountering criticism from odd corners for having done so. His photographs, it's said, were not so well ordered, but fortunately a new home for them came courtesy of a collector named Gary S. Davis, who, writes curator Sarah Greenough, "acquired a master set of more than 390 Ginsberg photographs from his estate." Davis subsequently donated 75 images to the National Gallery of Art in Washington, D.C., the basis of the exhibit catalog now published as Beat Memories.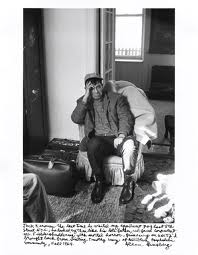 The master set included every photograph of which Ginsberg had kept a copy, most of them inscribed with captions in circumstantial detail. One disturbing image of a dissipated Jack Kerouac, for instance, bears the handwritten legend,
Jack Kerouac the last time he visited my apartment 704 East 5th Street, N.Y.C., he looked by then like his late father, red-faced corpulent W.C. Fields shuddering with mortal horror, grimacing on D.M.T. I'd brought back from visiting Timothy Leary at Millbrook Psychedelic Community, Fall 1964.
There's a lot going on in those 47 words, just as there is in the gelatin silver print of a Beat angel fast disintegrating into a right-wing misanthrope and alcoholic.
But there are happier moments, too, some recorded in mere snapshots, others carefully composed studies made after consultation with and lessons from the Swiss photographer Robert Frank, well-known for his book of 1959, The Americans (first published in 1958 in Paris as Les Americains). Ginsberg recalls in an interview reproduced here,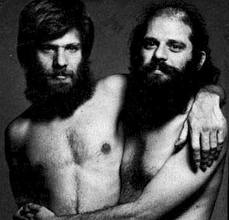 Robert said, "If you take someone's photo, more or less close-up, always include the hands." I asked why. He said, "The face is naked and the hands are naked. It gives a more complete picture of the action or the whole attitude of the body. If you just take a picture from the chest up—no hands—you don't quite get the whole gesture.
For her part, another photographer, Berenice Abbott, encouraged him to stand back to give "a little space around the subject," thus affording context to the image.
The advice was well taken, perhaps nowhere better than in a photograph of Beat bad boy William S. Burroughs taken late in his life, when Burroughs was living square in the middle of the heartland railroad earth. Writes Ginsberg, at the time of the photograph, Burroughs was "looking at the sky, empty timeless Lawrence Kansas." Burroughs retorted, on seeing it and pointing to a little sedan far in the background of the image, "But the car dates it."
Some of these pieces are dated, some indeed timeless. All are worth seeing and lingering over. On a trip to Washington, D.C., this summer past, I visited the National Gallery of Art, where 80 of Ginsberg's images were on display in a special showing. The L-shaped gallery in which the exhibit was mounted was full of museumgoers, many young enough to have been Ginsberg's great-grandchildren. Listening to snatches of their conversations, it was clear to me that they didn't have much sense of who Ginsberg was—or, for that matter, who the likes of Burroughs and Kerouac were, either. It was also clear, though, that they intended to find out, spurred to interest by the fluent captions and images before them. Beat Memories makes for a fine introduction for those newcomers, and it is a pleasure for anyone interested in Allen Ginsberg's life, work, and times.
—Gregory McNamee is a contributing editor to The Bloomsbury Review; a writer, journalist, editor, photographer, and publisher. He is the author or title-page editor of thirty-five books and more than four thousand periodical publications, including articles, essays, reviews, interviews, editorials, poems, and short stories.