In a recent e-mail, Steve Kennedy, poet and keeper of the flame of his uncle Charles Kennedy's charmed life, writes: "I am very pleased to invite you to attend the Colorado premiere screening of the multiple award-winning urban nature documentary The Legend of Pale Male. It is the feature-length story of the famous nesting red-tailed hawks of New York City. All proceeds of the screening will benefit Denver's own legend, The Bloomsbury Review, one of the finest literary review magazines in the country. The film features my late uncle, New York naturalist, photographer, and writer Charles Kennedy. Charles and I have had the honor of writing for The Bloomsbury Review over the years, and it has a dear place in my heart. And this film is guaranteed to warm the hearts of viewers of all ages."
            Steve's words are not just boasting or PR spin, and I can share a story to prove it. As a gift for his retirement, I purchased a DVD of Pale Male for my brother Dan, a birder so devout that he keeps his life-list handy at the dining room table. Just outside the sliding glass doors beyond, it is not unusual to encounter half a dozen species of birds at any one time, different ones in each season. I expected Dan to love Pale Male. I was not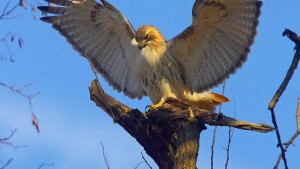 disappointed. And even though she can show you where the meadowlarks nest at a nearby lake, I did not expect my sister, Kelly, to be enthralled to silence by the life of a raptor. Nor did I anticipate that my sister-in-law Kathy, whose birding interest (by her own admission, and excluding a trip to view the sandhill cranes along the Platte River in March) is pretty much limited to, "Oh, look! It's a bird!" would be held in thrall by the biography of a family of hawks.
But enthralled we were, from the opening scenes of filmmaker Frederic Lilien's charming antics as he weaves and bobs before the camera, trying to explain how his destiny became linked to that of a red-tailed hawk named Pale Male. The hawk is unique for many reasons. The uncharacteristic pale feathers from which he takes his name (known as leucism) is rare among birds. And he is the first redtail in a century to choose the indisputably urban area of Manhattan near Central Park as his territory. Observed by Lilien as well as by Charles Kennedy, the story of this wild creature achieves the status of a legend for the simple fact of his life as well as the love and loyalty he has engendered among those reputedly thorny New Yorkers. The film translates the quality of legend as it follows Pale Male and his family in their attempt to remain wild, all the while wordlessly teaching the human audience about the meaning of and the need to protect true wildness.
First sighted in 1991, Pale Male was the subject of a PBS Nature documentary aired in 2004. "He Won the Heart of New York," the video cover boasts. While red-tailed hawks are a sight to be expected here in Colorado, Pale Male was the first one known to inhabit Manhattan in a century. He chose for his residence a ledge atop a posh co-op along Fifth Avenue—where fortunately, as it later turned out, a legendary, all-American girl also lived. On the ground, Charles Kennedy was one of Pale Male's earliest and most ardent admirers. Inevitably, he and filmmaker Frederic Lilien met. Together they documented Pale Male's life, amidst a growing crowd of admirers who grew devoted enough to affirm and defend the hawk's right to nest wherever he chose.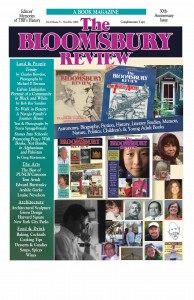 By 2004, The Bloomsbury Review (TBR) was well past its 20th anniversary in the wild world of publishing. A small literary review dedicated to featuring good books that were off the radar for large, mass-market publishers, from the beginning Blooms concentrated on promoting work from independent, small, regional, and university publishers, as it does still. Many literary notables have lauded Blooms. "The world of books is the better for it," said Norman Cousins. Wallace Stegner wrote that TBR "contains a more balanced examination of current books than any of its glamorous competitors." Best-selling author Tony Hillerman said TBR is "the best book magazine in America." David Streitfeld of The Washington Post: Book World called TBR "a leading publication, wholly, even zealously devoted to literature."
Pale Male and Blooms have both had their trials. Pale Male's nest was unceremoniously destroyed by a co-op board in a unilateral decision that the raft of sticks had to go. Enter the crowd who had begun to keep watch over Pale Male and his mates (several of whom met with early fatal ends) as they tried to survive the hazards of urban living. Enter also the legendary all-American girl who lived in the co-op, Mary Tyler Moore, who along with Pale Male's ever more determined fans, joined the effort to restore the nest to the hawk.
Blooms, with its national circulation and overseas subscribers, has managed to survive as other "little magazines" have either scaled back or become extinct. From a fledgling newsletter affiliated with a bookstore, Blooms grew to publish many first interviews with authors before they became literary household names, among them: Louise Erdrich; Walter Mosley; Joy Harjo; Sherman Alexie; Clarissa Pinkola Estés, PhD; Harry N. MacLean; Barbara Kingsolver; John Nichols; Terry Tempest Williams; and many more. Blooms has reviewed first novels, first books of poetry, first essay collections, first works of nonfiction … first! It has always recognized the power of poetry as a natural force in the literary world. It has supported the efforts of translators nearly as early as the poet Robert Bly! Tom Auer, TBR's founder and first publisher/editor-in-chief, once laughingly told me, "Other literary magazines run out of money and so they stop publishing—we just get another issue ready for the printer!" Blooms is legendary for the quality of the work it publishes as well as its indefatigable nature to survive in the urban literary jungle. It has survived the death of Steve Lester, its first art director, and the death in 2003 of Tom Auer. And while advertising dollars have grown scarce throughout the publishing world, enthusiastic support from Blooms' readers has not. Here's another chance for us to prove it.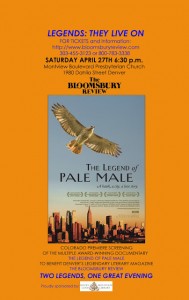 It's no surprise that one legend would come to the aid of another. Or that Steve Kennedy, inheritor of his uncle Charles' legacy, would offer Blooms the chance to present the Denver premiere of The Legend of Pale Male as a fundraising effort for the magazine. To date, the film has won nine awards, including "Best of Festival" at the International Wildlife Film Festival, the "Audience Favorite Award" at the Santa Barbara International Film Festival, and "Best Nature & People Award" at both the Japan Wildlife Film Festival and the Jackson Hole Wildlife Film Festival.
The Denver premiere offers local supporters of Blooms, as well as bird and wildlife lovers, the opportunity to support these "wild" legends of air and word. To that end, the Rocky Mountain Land Library (RMLL)—yet another Denver legend in the making—with its 35,000-volume collection devoted to, as co-founder Jeff Lee writes, "extend everyone's knowledge of the land, and to waken us to the sheer miracle of life on earth," has stepped forward as the main sponsor of the film premiere.
Click here for some background and to watch the film trailer on RMLL. And be sure to stop by their table the night of the event. (Anybody got a good urban location for a 35,000-volume special collection library?!)
The Legend of Pale Male premiere takes place on Saturday, April 27th, with a reception at 6:30 p.m., followed by the screening of the film at 7:15 p.m. After the screening there will be a chat with the filmmaker, Frederic Lilien. Help us fill the house in the beautiful, historic Miller Center at Montview Boulevard Presbyterian Church, 1980 Dahlia Street in Denver. But don't delay; buy your tickets now!
PURCHASE TICKETS online at bloomsburyreview.com under "What's New."
RESERVE TICKETS or for more information: 303-455-3123 OR 800-783-3338
OR e-mail: bloomsb@aol.com.
See you there! And if you are not local but would like to help Blooms keep flying high, you can make a donation in absentia through the Web page listed above.
WRITER: Kathleen Cain is the author of The Cottonwood Tree: An American Champion (Johnson Books/Big Earth Publishing, 2007). She has been affiliated with The Bloomsbury Review in one way or another since 1982. She has also served as a volunteer naturalist for Jefferson County (Colorado) Open Space and has recently joined the advisory board for the Rocky Mountain Land Library.